When it comes to working at the height, occupational safety is a vital factor that should be taken into account.
Regardless of your occupation, as a company owner, contractor or a construction worker, it is very important that you choose safety systems for your operatives and company.
The safety systems are able to consistently ensure employee's health and well-being. However, implementing safety procedures is not at all simple and one cannot just choose any equipment that will provide minimal protection thus inviting unfortunate hazards.
It's important that you figure out what you require from the guardrails and the benefits and drawbacks of each of the systems. So you can invest in a product that you and your employees will be confident to work with.
Guardrails Systems
Guardrails are one of the best height-related safety equipment and apparatus that provide an immediate and comprehensive level of safety to workers.
They are primarily engineered for the safety of commercial and residential employees when they are working at height.
There are many types of guardrail systems available in the market today.
The following are the most common ones:
Standard Guardrails
Radius Guardrails
Freestanding Guardrails
Parapet Guardrails
Top-Fix Guardrails
1. Standard Guardrails
Standard guardrails are easy to install and provide complete protection from the threats that are present on the rooftop or similar places.
2. Radius Guardrails
The design of radius guardrail systems is available in concave or convex form. Radius guardrails are mainly used for commercial rooftops.
…They are also used on the steep sides of roads where larger protection is required.
3. Freestanding Guardrails
An integrated counterbalance system is implemented in freestanding guardrails for the safety of employees.
…They are suitable for flat rooftops.
4. Parapet Guardrails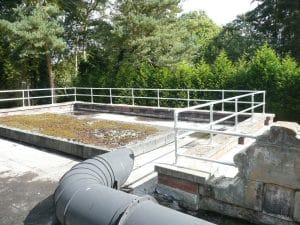 A parapet system is used where protection is required for strengthening the reduced tension of the parapet wall.
To achieve this, a flexible bracket system is used.
This system makes sure that the associated handrail remains fixed over the parapet.
5. Top-Fix Guardrails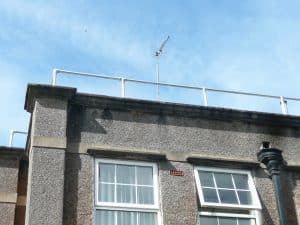 When a parapet wall is too low, top-fix guardrails are implemented.
Top-fix guardrails are light weighted systems and are specially designed for the attachment on the top of parapet walls.
When you are choosing any guardrail system, make sure that you select a product made from high-quality materials and certified with the highest safety standards.
Guardrails should be made with high-quality materials and meet safety standards to provide complete protection thereby reducing the risk of accident and protecting your company from facing litigation.
Effective usage of various guardrail systems according to the rooftop or your internal company structure significantly reduces the risk of falls.
About J&J Engineering
J & J Engineering (Walsall) Ltd, have over 40 Years of Experience With Tube Bending, Manufacturing Metal Pressings, Fabrication & Welding. We pride ourselves on offering a prompt, personal and flexible service at competitive prices!
We manufacture high-quality metal presswork, welded assembly components and products including bespoke shelving and roof safety barriers/systems for clients in Birmingham, Walsall, other places in the West Midlands and throughout the UK. Established in 1978 we have worked with companies to provide a wide range of metal pressing, welded assembly components and other products.
For more information regarding this, Give us a call: 01922710204 (or) Leave an email: sales@j-jengwalsall-ltd.co.uk